By James F. Finn
I choose not to write about politics, but the issue of equal rights for all Americans is still a hot topic.
I interpret the Charters of Freedom as living, evolving documents. The words: 
"We hold these truths to be self-evident, that all men are created equal, that they are endowed by their creator with certain unalienable Rights, that among these are Life, Liberty and the pursuit of Happiness."
I believe this phrase means all citizens of the United States, not just men.
The Women's March on Washington proves our republic still has ways to go in living up to the words of the Framers. Nonetheless, peaceful protest is a sign of a healthy nation. Yesterday women from 70 countries stood in solidarity with American women.
I was able to catch the last bits of the march through Dupont Circle. Traffic stopped for protestors as they crossed the street in droves. Colorful signs covered the gates of the White House. The signs displayed unique messages with passionate rhetoric. The underlying theme behind the fiery rhetoric: equal rights for ALL Americans.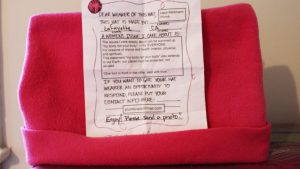 At one point my mother, a devout activist, called me to ask if I could find her one of the pink hats (a symbol of the protest). As I left the White House, I saw two women wearing the hats and asked where they had received the headwear. I told them my mother had wished that she had made the trip and has been an activist since her college years. One woman gave me her hat to pass onto my mother with one condition. The condition: read the message that came with the hat and do exactly as instructed:
"A women's Issue I care about is: The issues I care deeply about can be summed up "my body not your body" — for EVERYONE. For reasons of choice and health (mental, physical, and spiritual).

The statement "my body not your body" also extends to our Earth – our planet must be protected, not abused.

"One foot in front of the other, lead with love."
As the author, I don't want to be remiss in my promise to that activist and am displaying both hat and note in this photo. Thank you, Ma'am.
I hope President Trump makes thoughtful decisions on behalf of all Americans. Should he choose not to, it is without a doubt our citizens will remind him of who makes the decision to keep him in office.