By James F. Finn
After leaving my employer for a new opportunity, R and R was much needed. I flew out to San Diego to stay with my Godmother and uncle who are both art, music and film lovers. They are fans of the '86 cult classic Top Gun and recommended a visit to the Graves House — colloquially known as the "Top Gun House" by tourists. With the top on the BMW coupe down and Top Gun soundtrack playing, Godmother and I took a ride down lovely PCH 1 to find this local gem.
As we pulled onto North Pacific Street in neighboring Oceanside, CA, Berlin's Academy Award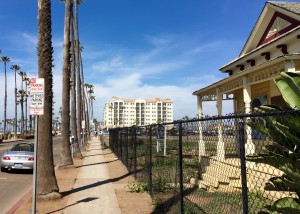 winning track, "Take My Breath Away," blared as we pulled up to the house. Film viewers can recall a memorable scene featuring Maverick, a Navy pilot portrayed by a young Tom Cruise, pulling up on his motorcycle to meet his love interest and civilian flight instructor, Charlie, played by Kelly McGillis, for a sunset date. While the view of the Pacific Ocean from the house took my breath away, unfortunately the home had lost that lovin' feeling.
Despite having a supporting role in a cult classic film, the house has a lesser known history. It was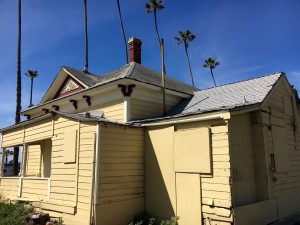 built in 1887 by a doctor named Henry Graves and is one of the oldest homes in the town of Oceanside to-date.
The Department of the Navy sanctioned the production of Top Gun and allowed filmmaker Tony Scott access to the necessary facilities and resources to complete the film. Top Gun not only became the Navy's most powerful recruiting tool, but other branches of the post-Vietnam era military saw significant spikes in recruitment a year after the release of the film. Since San Diego county is home to Camp Pendleton (Marine Corps), Miramar Air Station (the former home of the TOPGUN school for fixed-wing pilots) and a variety of other bases — the location of the beach bungalow proved convenient for the love scenes between Charlie and Maverick.
Despite the chain linked fence, disrepair and weeds — the house still has character and creative fans have drawn illustrations of Dr. Graves along with Tom Cruise and Kelly McGillis. If you're looking for history and a breathtaking view of the Pacific Ocean, take a visit and blast the Top Gun soundtrack.